Starbucks Reveals Plan To Become More Eco-Friendly By 2030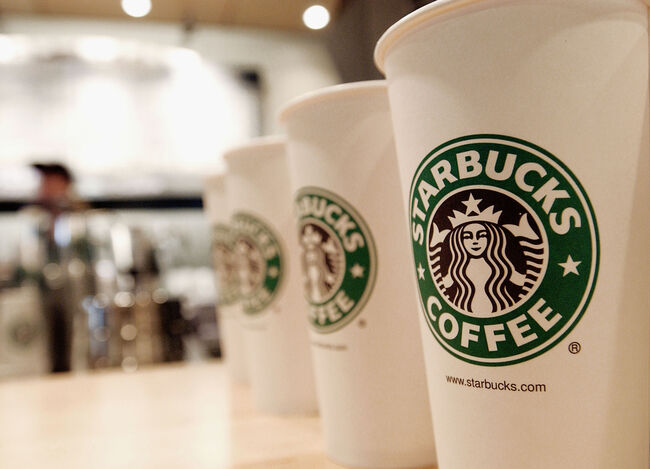 Starbucks made a major announcement on Wednesday (January 22). The coffee company plans to become "resource positive" by 2030. So, what exactly does resource positive mean? Over the course of the next 10 years, Starbucks wants to give more than it takes from the planet. The end goal is that by the end of this decade, Starbucks will see a 50% reduction in carbon emissions, water withdrawal, and waste production.
In an open letter to customers, CEO Kevin Johnson explained why Starbucks is aiming to become more eco-friendly. "As we approach the 50th anniversary of Starbucks in 2021, we look ahead with a heightened sense of urgency and conviction that we must challenge ourselves, think bigger and do much more in partnership with others to take care of the planet we share," he wrote.
"Today, more than ever, the world needs leadership in environmental sustainability. We agree with the consensus of scientific experts who note that without drastic action from everyone – governments, companies and all of us as individuals – adapting to the impact of climate change in the future will be far more difficult and costly, taking a toll on our supply chains, our business, and more importantly, the lives of everyone involved, including coffee farmers, our suppliers, Starbucks partners, customers and every community we serve," Johnson continued.
After quantify the carbon, waste and water footprint of Starbucks' operations and supply chain across the globe, the coffee giant came up with a plan to become resource positive. Starbucks then came up with 5 goals that will help them achieve just that:
1. We will expand plant-based options, migrating toward a more environmentally friendly menu.
2. We will shift from single-use to reusable packaging. 
3. We will invest in innovative and regenerative agricultural practices, reforestation, forest conservation and water replenishment in our supply chain.
4. We will invest in better ways to manage our waste, both in our stores and in our communities, to ensure more reuse, recycling and elimination of food waste. 
5. We will innovate to develop more eco-friendly stores, operations, manufacturing and delivery.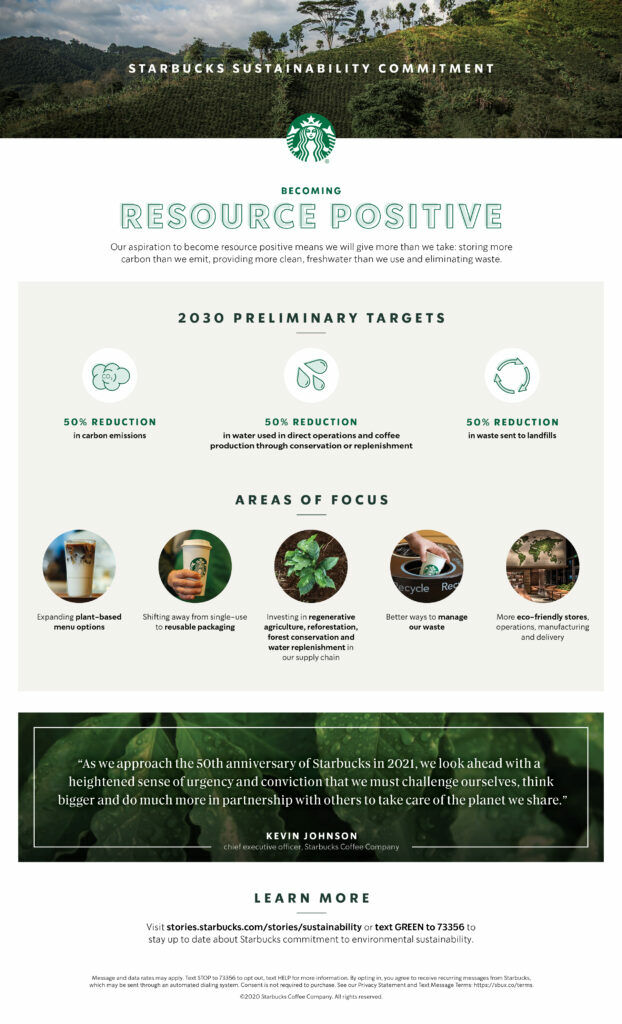 Starbucks has also pledged to be "transparent in reporting short- and long-term progress against our goals." Since the coffee giant acknowledge the above 5 goals will take multiple decades to achieve, they also established 3 preliminary goals to achieve before 2030:
A 50% reduction in carbon emissions in our direct operations and supply chain.
50% of our water withdrawal for direct operations and coffee production will be conserved or replenished with a focus on communities and basins with high water risk. 
A 50% reduction in waste sent to landfill from stores and manufacturing, driven by a broader shift toward a circular economy.To underscore this commitment, we are pleased to join Ellen MacArthur Foundation's New Plastics Economy Global Commitment, setting ambitious circular targets for our packaging.
What do you think of Starbucks new sustainability plan?
Photo: Getty/Starbucks